Abdominal ultrasound scan/ USG Scan
The abdominal ultrasound scan is an important tool for the diagnosis of medical conditions in the abdomen. It can be used for adults, children, and neonates.
Ultrasound scanners use sound waves to produce images of structures inside the body. They do this by sending sound waves into the body and then measure their bounce off from the structures like organs or blood vessels. The scanner converts these measurements into an image on a computer screen which is usually black and white with shades of gray.
An abdominal ultrasound scan is usually done to diagnose any one or more of these conditions:
Fatty liver
Liver abscess
Liver masses

Appendicitis
Gallstones
Acute cholecystitis

Pancreatitis
GB mass
Kidney stones / Ureteric stones/ Bladder stones
Kidney mass
Uterine fibroids
Endometrial lesions
Ovarian cysts/ masses
An abdominal ultrasound scan is a medical imaging technique, which provides an image of the organs and structures in the abdomen.
USG Whole Abdomen : It is used to evaluate the liver, gallbladder, spleen, pancreas and kidneys as well as other abdominal structures such as bowel loops and gastrointestinal tract.
USG Upper Abdomen
USG KUB/Prostate
USG Lower Abdomen: It focuses on the bladder, uterus and ovaries in females and prostate in males.
Neonatal Abdomen
Paediatric Abdomen:It can be applied to children from birth up to 18 years of age who have abdominal symptoms or fever (or both).
Small Parts USG/High Frequency Scan
Musculoskeletal Scan : This abdominal ultrasound scan can be used for examination of joints including shoulder joint , knee joint , elbow joint , wrist joint , ankle joint.
USG Chest
USG Hip
USG Neck Swelling
Thyroid USG
Small Parts USG/High Frequency Scan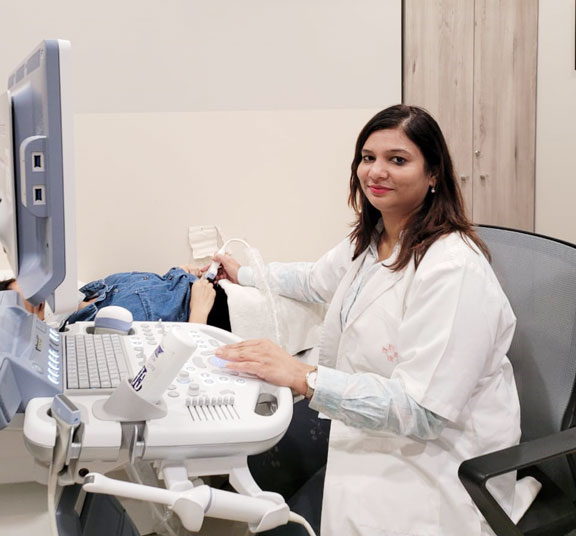 Working Time
Mon-Sat (Morning) 10:00AM to 14:00PM
Mon-Sat (Evening) 05:00PM to 08:00PM
Sunday - Closed