Gynecological Ultrasound scan
We want you to know everything about your ultrasound scan, so that you can feel confident about the procedure
Overview : What is pelvic ultrasound?
A pelvic ultrasound scan can help detect serious health problems like cancers including ovarian, endometrial, cervical, uterine fibroids, problems with the fallopian tubes, and of course - pregnancy.
Plan your future
Know your options before deciding. For example - if you are pregnant, a pelvic ultrasound scan can help you plan the birth of your baby by revealing its due date. It can also show you whether it's a single or multiple pregnancy and find out the sex of the baby. You'll be able to see how many babies are growing in your womb and even learn their name before they're born!
Protect yourself from diseases
A pelvic ultrasound scan is an important part of prevention - it can detect cervical cancer at early stages, as well as other gynaecological cancers like endometrial carcinoma or vaginal cancer.
Why Gynecology ultrasound Scan?
To Rule out PCOD/PCOS
Delayed Periods
Pelvic Scan/ Lower Abdomonal Pain
Ovarian Cancer Screening
Why should I have the scan?
A pelvic ultrasound scan can help find any abnormalities or signs of cancer. This includes ovarian cysts, fibroid, tumors, polyps in the uterus or vagina. It may also identify other conditions such as ectopic pregnancy or pelvic inflammatory disease.
What type of Conditions/abnormalities required Gynecological Ultrasound scan
Uterine Fibroids.
Adenomyosis
Endometrial hyperplasia.
Endometrial polyps.
Cervical masses.
PCOD/PCOS
Ovarian Cysts.
Paraovarian cysts.
Endometriotic cysts.
Ovarian Haemorrhagic cysts.
PID or Pelvic inflammatory disease.
Ectopic pregnancies.
Hydrosalpinx.
How accurate is a pelvic ultrasound scan?
A pelvic ultrasound scan is one of the most accurate imaging techniques available to diagnose abnormalities in the female reproductive system. It's also one of the best ways to confirm pregnancy due to its ability to visualize all three layers - ovaries, uterus, and cervix.
When should I have the scan?
Pelvic ultrasound scans are recommended annually for women over 30 years old who are sexually active or in cases of irregular periods delayed periods , heavy bleeding ,3xcessive pain during periods.
We're there for you
Dr Shairy Ultrasound Centre is an exclusive medical centre that takes on only a limited number of patients per day. This ensures that all our attention is focused on you and your needs, so you can quickly receive high quality care.
What type of scan?
USG Lower Abdomen
Full Bladder
Transvaginal Scan (TVS)
3D/4D Scan
Follicular Study
We won't make you wait
With Dr Shairy Ultrasound Centre, there will not be long queues or waiting.
Quality care guaranteed
We pride ourselves in providing accurate care that is tailored to each patient's needs.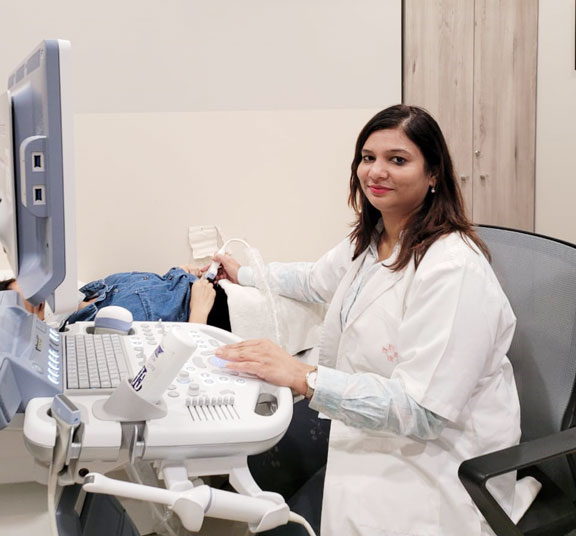 Working Time
Mon-Sat (Morning) 10:00AM to 14:00PM
Mon-Sat (Evening) 05:00PM to 08:00PM
Sunday - Closed